Mosquito Control, Pest Control and "Bad" Weather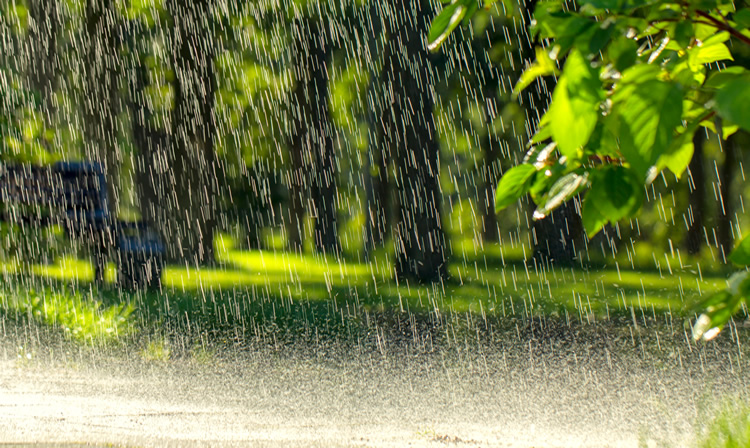 With the exterior nature of pest control, we naturally get many questions about rainy weather predictions. Going off of years of experience in the industry, we know that not all weather scenarios can be handled similarly, and that not all services are as impacted by adverse weather as it might seem. So when inclement weather is forecast, how do we work to ensure that our clients who are due for service aren't simply overlooked or pushed off? Let's break it down below.
FORECASTS
We can all recall a time when a clear weather forecast ended up being way off target. Perhaps a special event or activity got rained out, or your recent car wash went kaput. Your daily life gets impacted. But how many times did it go the other way, with nice weather instead of bad, and you never even noticed?
Well, the local meteorologist knows this as well. Rather than promise a sunny day that turns rainy, they're going to err on the side of predicting rain. This lessens the impact if they get it wrong. Not only are rain chances often inflated or inaccurate, they are subject to change. We see this all the time on days which began at a predicted 70% or 80% chance of rain, only to be revised down to single digits and with no rainfall.
It's very easy to look at a weather forecast like "40% chance of rain" and resign yourself to dealing with a wet day. However, that's not always the case. We're bound to get an incorrect impression when a forecast is distilled down to a number and a rain cloud emoji. What size area is in question? Is that daytime, or overnight? What does that percentage number actually mean, anyway? Longtime Austin meteorologist and University of Texas senior lecturer Troy Kimmel has some answers. He puts it this way:
"[It] is simply a statistical probability… Using a 40% probability of rain as an example, it does not mean (1) that 40% of the area will be covered by precipitation at given time in the given forecast area or (2) that you will be seeing precipitation 40% of the time in the given forecast area for the given forecast time period… If a forecast for a given county says that there is a 40% chance of rain this afternoon, then there is a 40% chance of rain at any point in the county from noon to 6 p.m. local time." (http://la.utexas.edu/users/kimmel/nwsforecasts.html)
That's a pretty wide target. He has put together a handy table to help illustrate his meaning.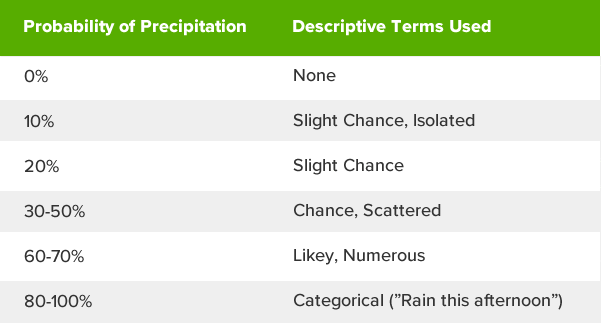 It's not until 60% that rain chances can even be described as 'likely.' So, you see how a 40% chance of rain forecast can easily leave your neighborhood dry as a bone.
SERVICE PERFORMANCE
Pest Control
The treatment done on the structure of a home is remarkably resilient, and shouldn't be affected by the rain. We spray two to three feet up foundation of the house, entry points like doors and windows, and into the eaves of the roof overhead. Unless there is driving sideways rain, water will never touch that product. We also distribute a granular application throughout the yard that is actually activated by water. So in this case, the rain actually helps us.
Mosquito Control
For Mosquito Control, there are often client concerns before, after, and during rain. However, worries about treatment being "washed away" are only accurate in one phase.
Before
As long as our Mosquito treatment has has time to dry, it is perfectly ok to treat before rain. Here's an excerpt from the University of Florida Institute of Food and Agricultural Sciences' publication Adjuvants to Improve Rainfastness [with some notes added by us in bold] to help explain why.
"Adjuvants that increase absorption of the product into plant tissues can be added to increase the rainfastness and overall performance of a pesticide. Adjuvants can either be included in the formulation or added to the spray tank before application. Adjuvants to enhance rainfastness of pesticides can include surfactants [that's what we use], oils [like the botanical oils we use in our application], deposition agents, and thickeners. In particular, organosilicone surfactants are commonly used to improve rainfastness, reduce surface tension, and enhance spreading ability (Figure 5)"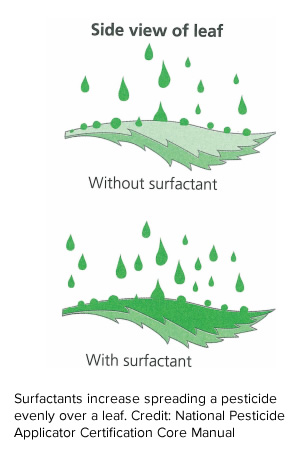 After
We encourage our customers to keep their appointments after rain, because applying the solution onto still-wet foliage is just fine. What we're spraying is already a water suspension, so it's not going to be hurt by a little more water being present. And in fact, following a rainy day is actually a great time to service, since mosquitoes are out and about trying to take advantage of all the new standing water. It really spikes their activity, and we're right there on top of them.
During
This is the only phase in which we will automatically hold off from conducting service, as rain running off of foliage will carry our product away with it. If our technicians are seeing rain while they are in the field, or if forecasts are indisputable that we will face all day rain, we will work to reschedule services to the soonest available serviceable opportunity.
Conclusion
We hope that this has been helpful in conveying why we still make the effort to take care of our clients in wet weather. We're confident in our services and the technicians who carry them out. And with most clients services guaranteed one way or another, we are ready to help out in any situation – rain or shine.

Get Rid of Pests Today!
Our naturally superior pest solutions will protect your home and yard from dangerous and annoying pests. Get started today by calling us or requesting a free quote online!